Fun Fact
German confectioner and entrepreneur Hans Riegal invented gummy candies in the early 1920's, when he started his candy company Haribo. Regal was inspired by the trained bears that entertained him at street festivals as a child around Europe. The first base ingredient Riegal used to formulate his creation was gum arabic, which led to the name "gummi bear". Today, gum arabic has been substituted for other compounds such as gelatin, pectin, or HPMC (hydroxypropyl methylcellulose), but the concept is the same.
Before gummies were used in the hemp industry, they were not only a candy, but they were used as a delivery system for vitamins and minerals. This came about since we use the mouth to not only swallow pills but also for the absorption of medicines if they are held in the mouth for a period of time.
Advantages of mouth absorption
Because the mouth is highly vascular, with a dense network of blood vessels, mouth absorption has distinct advantages for bioavailability. Substances absorbed through the sublingual mucosa evade hepatic first-pass effect. Active ingredients are delivered directly into the bloodstream, bypassing the digestive system. For better absorption, advise patients not to chew and swallow gummies—rather, chew just a bit and let them rest in the mouth and dissolve. By the way, patients can also get these advantages of mouth absorption by holding liquid hemp extracts in the mouth for a couple of minutes.
With a gummy, both buccal and sublingual absorption can be achieved, depending on where it is held in the mouth. For example, if the gummy is held on the inside of the cheek, you'll get buccal absorption and if held under or on the tongue, you'll get sublingual absorption. When you consider that oral absorption of cannabinoids is typically low, a dosage format that improves bioavailability of cannabinoids is quite welcomed.
Studies dating back 20 years ago by Guy and Robson highlight the difference between various dosage formats. What Guy and Robson showed is that both sublingual and buccal absorption of cannabinoids, in this case both CBD and THC, had good Tmax and good Cmax — Cmax being the maximum concentration of cannabinoids in the blood and Tmax being how fast the maximum blood level is reached, or in other words, how quickly the cannabinoids were absorbed.
Absorption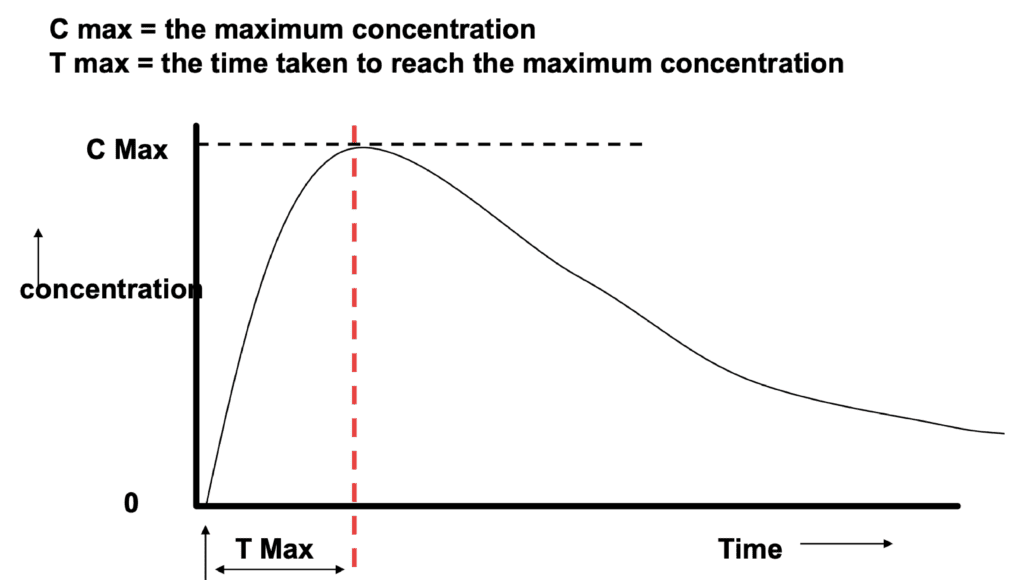 One thing to note in this study is that there was considerable individual variability in the time of the first appearance of the cannabinoids in the blood, and that range was 15-105 minutes. A more recent small study by Ewell et al in 2021 showed that Tmax for cannabinoids in gummies is between 35-90 minutes.
Why choose a gummy over other dosage formats?
Besides improved bioavailability, there are several other advantages of gummies. For starters, by avoiding first pass metabolism, ingredients do not need to be metabolized by the liver as they can be absorbed directly into systemic circulation via the mouth. Another benefit is taste, especially when using full spectrum cannabinoid preparations which may not be palatable to some. The surrounding matrix in the gummy provides some sweetness. Ease of use is also a significant advantage. For those who find it hard to swallow pills, chewing and sucking on a gummy is a great alternative. And lastly, convenience. Gummies are easy to carry, and it's easy to pop a gummy in the mouth.
And what about practical applications? This will differ for patients depending on the need. For example, if when heading to a social setting some CBD is desired to relax, a gummy is discreet and easy to carry. Or with a gummy formulated for sleep, taking a gummy at the start of the bedtime routine is convenient timing to produce relaxation and induce sleep.
Choosing the Right Gummy Product
To sum up, gummies are a great way to get good absorption of CBD and other cannabinoids. As with recommending any hemp product, do your research to find a safe, quality product from a reputable brand. Check on the company's manufacturing certifications and look for proof of thorough testing for potency and purity by a third-party, ISO-certified laboratory. Consider the potency, as many are too low to provide benefits. To really understand the products, it's important to read labels for serving sizes, amounts, strengths, and other ingredients. Seek out gummies that are very low in sugar, contain no artificial food dyes, and have all-natural ingredients to best support your patients' health.
References
Ewell TR, Abbotts KSS, Williams NNB, et al. Pharmacokinetic Investigation of Commercially Available Edible Marijuana Products in Humans: Potential Influence of Body Composition and Influence on Glucose Control. Pharmaceuticals (Basel). 2021;14(8):817. Published 2021 Aug 20. doi:10.3390/ph14080817
G. W. Guy & P. J. Robson (2004) A Phase I, Open Label, Four-Way Crossover Study to Compare the Pharmacokinetic Profiles of a Single Dose of 20 mg of a Cannabis Based Medicine Extract (CBME) Administered on 3 Different Areas of the Buccal Mucosa and to Investigate the Pharmacokinetics of CBME per Oral in Healthy Male and Female Volunteers (GWPK0112), Journal of Cannabis Therapeutics, 3:4, 79-120, DOI: 10.1300/J175v03n04_01